Winslow Homer, "Three Fisher Girls", 1881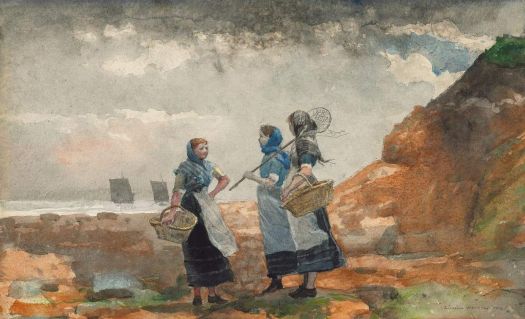 Why are you reporting this puzzle?
Winslow Homer (1836 – 1910) was an American landscape painter and print maker, best known for his marine subjects. He is considered one of the foremost painters in 19th-century America and a preeminent figure in American art.

Largely self-taught, Homer began his career working as a commercial illustrator. He subsequently took up oil painting and produced major studio works characterized by the weight and density he exploited from the medium. He also worked extensively in watercolor, creating a fluid and prolific oeuvre, primarily chronicling his working vacations.

Homer's high school graduation, his father saw an ad in the newspaper and arranged for an apprenticeship. Homer's apprenticeship to a Boston commercial lithographer at the age of 19, was a formative but "treadmill experience". He worked repetitively on sheet music covers and other commercial work for two years. By 1857, his freelance career was underway after he turned down an offer to join the staff of Harper's Weekly. "From the time I took my nose off that lithographic stone", Homer later stated, "I have had no master, and never shall have any."

Homer's career as an illustrator lasted nearly twenty years. He contributed to magazines such as Ballou's Pictorial and Harper's Weekly, at a time when the market for illustrations was growing rapidly, and when fads and fashions were changing quickly. His early works, mostly commercial engravings of urban and country social scenes, are characterized by clean outlines, simplified forms, dramatic contrast of light and dark, and lively figure groupings - qualities that remained important throughout his career. His quick success was mostly due to this strong understanding of graphic design and also to the adaptability of his designs to wood engraving.

In 1859, he opened a studio in the Tenth Street Studio Building in New York City, the artistic and publishing capital of the United States. Until 1863 he attended classes at the National Academy of Design, and studied briefly with Frederic Rondel, who taught him the basics of painting. In only about a year of self-training, Homer was producing excellent oil work.