Bugosiians Beware....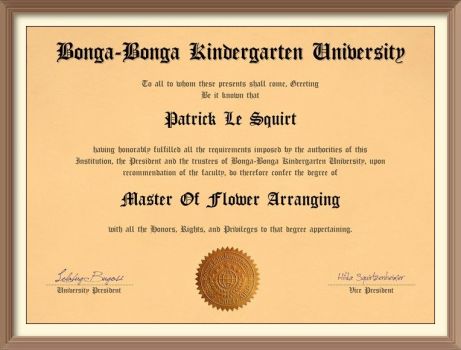 Why are you reporting this puzzle?
This "diploma" has recently come to my attention, and I feel it my duty to report it as a BLATANT FORGERY!!........
Let it be known that:-
1. The esteemed Bonga-Bonga Kindergarten University never has, never does, and never will issue a degree in flower arranging......
2. Though I presently am the present president of the university, I would NEVER sign my name as "Lelabug".......
3. I have never before heard of "Hilda Squirtzenheimer" - in fact the present vice president is presently Berenice Bluebottle, who happens to be presently present at my side........

To summarise, summarily.......I believe this audacious affront to be the work of someone who is jealous of my own achievements in the field of diplomas.....someone who has NO AUTHENTIC DIPLOMAS OF THEIR OWN........As such, I feel sadness and pity for that person, so I hereby decree that thy can KEEP THE DOGGONE DODGY DEGREE!