"Keanu" kitten in do-rag and gold chain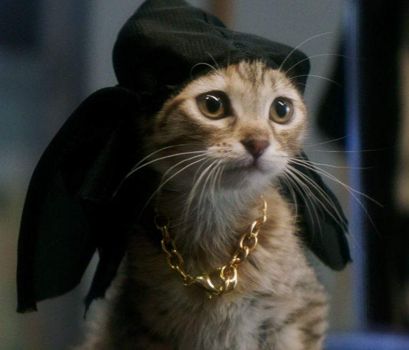 Why are you reporting this puzzle?
Above: the star of the hilarious comedy "Keanu" by Keegan-Michael Key and Jordan Peele.


Some things I learned from reading a cat magazine while waiting at CVS last night:


1. Studies show that cats are day-dreaming when they stare into space. Because their brains are quite similar to humans', despite being smaller and with far fewer neurons, scientists were able to recognize the same mind-wandering as in human brains. They can only speculate as to the content: the next meal, a game to play, or cuddling with their humans are all possibilities.

2. Whiskers are also known as:

a) Cilia
b) Palpae
c) Vibrissae
d) Feline antennae
e) Touchy-feelies
z) Inferior to sloth whiskers

3. https://www.musicforcats.com/ is the home-page for David Teie's "Music for Cats: Music Developed For Feline Ears."
"David Teie, a soloist with the National Symphony Orchestra, recently teamed up with animal scientists to develop 'Music for Cats,' a series of whirring, lilting and at times squeaky musical tracks designed for cats' brains and ears." His compositions have received commendations from scientists and, it is reported, genuine pleasure from cats. (My Rocket kitty certainly perked up his ears.)

4. Feline and human brains differ by magnitudes, but not always in kind. Experts say that both species are excellent at gleaning cues from body language and vocal utterances.

5. Cats don't automatically understand the human smile as an expression, but given the opportunity, they learn that it is a friendly signal and perhaps that something nice is about to happen. While we inherit smiling and laughing, cats have to spend time studying the whole body language package, and many learn to smile, too. (This might merely be, in some cats, the same physical conformation that makes dolphins look like they're smiling. Personally, from experience, I believe it's a learned behavior.)

6. They like catnip because of its aroma -- it reminds them of the smells of, shall we say, courtship. This is why cats too young to have entered sexual maturity are not interested in it.

7. Cats like to hear their names, repeated as frequently as one can throughout the day. What I've always wondered is whether they recognize the sound as a *symbol* that represents them, or whether they merely associate it with food or petting. My cats will generally come when called, but it isn't fool-proof.