Australian lighthouses.....Point More.Geraldton WA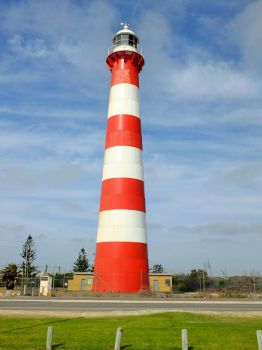 Why are you reporting this puzzle?
At 30 metres tall, the Point Moore lighthouse is one of Australia's most recognisable, warning vessels of the reef and series of sand bars below the point for more than 130 years.

First established in 1876, it was prefabricated in London and shipped to Australia in 192 parts for assembly on site.

The tower is made up of cast iron segmented panel sections bolted together to form 15 segmented rings.

It has seen numerous upgrades, with the original light removed when the lamp was converted from a kerosene wick to an incandescent mantle in 1911.

In 1958 the light was converted to electricity and currently has a light range of 19 nautical miles.

The characteristic daymark of four red and three white bands was added in 1969.