Look who just showed up - a House Wren!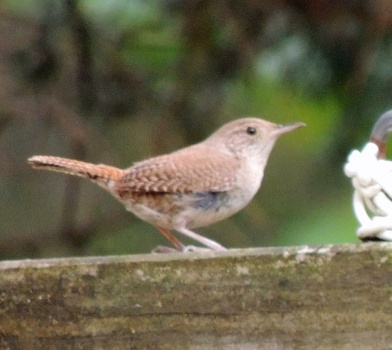 Why are you reporting this puzzle?
Yesterday morning, I suddenly heard a wren. Its steady singing, moving around, indicated, much to my delight, that it was declaring a territory in my back yard. Then I saw it - it had decided it liked the sole nest box I inherited, which sits atop one of the posts which held clotheslines (I cut them down, and plan to remove at least one of the posts).

I was surprised that no birds had claimed the nest box, and also surprised by how late in the season the bird arrived. But indeed, over the next few hours, I saw the wren bringing nest material into the box. As it happens, the entrance hole is on the side away from me, and wrens are so active that it was difficult to get a shot - particularly framing and focusing at that distance.

However, I'm delighted at the prospect of having a wren family as neighbors this summer.