My Beautiful Miffie. Larger.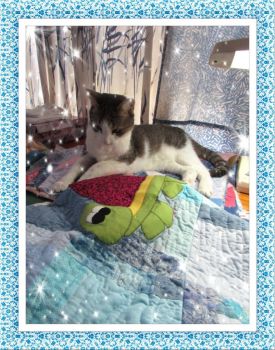 Why are you reporting this puzzle?
She always helped me with my patchwork, and I would lift her up onto my high sewing table, as she had bad arthritis in one back leg which she had damaged badly as a kitten. She was MY cat and always loved to be with me and had the sweetest nature too. She is lying on the Bright Turtle quilt that I made for my daughter's best friend's baby. If you would like to see it, I could post it again if anyone would like to see the Turtle Quilt.
I added sparkles as my sweet Miffie is at Rainbow Bridge now and has been for many years.