Bugosis In History - Isaac Bugosi-Wenton.......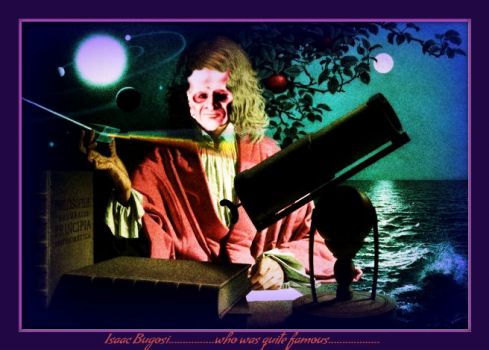 Why are you reporting this puzzle?
Long before the name Bugosi became synonymous with tadpoles, there lived an illustrious man whose name is now forever associated with apples......
Isaac Bugosi-Wenton was a keen juggler, who had aspirations of one day joining the Ringling Brothers
circus......As his father owned an extensive apple orchard, the young unemployed Isaac could be found every day throwing apples into the air, as he sought to perfect his art......
His training was very methodical, as he measured and weighed each apple, carefully calculating the
speed and distance involved in every throw - eventually coming to the conclusion that green apples were the best.......
One fine day found him sitting under a tree, making calculations in his little notebook, when all of a suddenly an apple fell from its lofty perch and hit him on the nose........When he came to, Isaac wondered why the apple had fallen on his nose, instead of rising to hit a bird, which had now pooped in his eye......
Taking into account the relative weight and size of the apple, and comparing it to the relative weight
and size of the poop, he realised that a hidden force was at work in nature, and also, as well, that it was unwise to sit under apple trees without wearing a mask......
Thus it was that Isaac Bugosi discovered the law of gravity........sadly, his career as a juggler never got off the ground.....
Oh yes......he was also good at sums........