Carolyn's Bird Visitors. Larger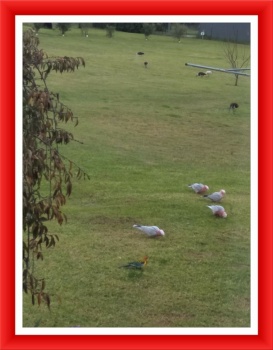 Why are you reporting this puzzle?
My sister Carolyn has had lots of rain too and was thrilled to see these birds visiting her soggy lawn.
Right in front was an Eastern Rosella (parrot) a bit blurry. We don't see them here.
Then four Galahs behind him, and five Ibis, four dark ones (Straw Throated) and one white one (Sacred Ibis) like I showed you a while back in our yard. it is unusual to see them inland, but all the rain seems to have enticed them to fly west.
They are so pleased to have good rains and a green lawn at last as they have had terrible drought for the last few years.
How many accounts can a person have on Jigidi?

1 account; or 2 if you have a creative need for a second account - but this requires transparency in your profile descriptions that you hold both accounts. To trust each other and interact with our shoulders down and hearts soft, we all must know with whom we are communicating.

Read more about what to do if you have more than one account on Jigidi.