Giovanni Giacometti (Swiss, 1868–1933), Der Scherenschleifer (1891)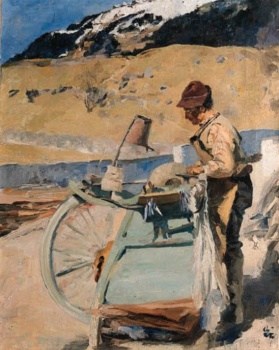 Why are you reporting this puzzle?
Oil on canvas
56 x 44.5 cm

Der Scherenschleifer (which is fun to try to say) translates to "the scissor grinder." When we lived in Bogotá, Colombia, there was a scissor/knife sharpener who rode a bicycle in the streets of our neighborhood, calling out "Afilar cuchillos tijeras." Then the maids would hurry out to the street with knives and scissors wrapped in towels. The wheel in this painting may belong to a cart or it may be part of the sharpening mechanism (speculation on my part).