Lily the cat stories 394 - Brrrr it's cold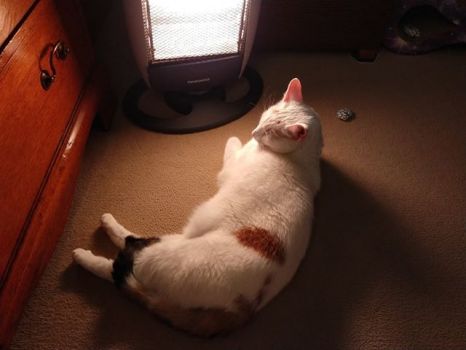 Why are you reporting this puzzle?
But Lily has the indoor sun heater. Ahhh, that's nice.

To see all Lily pictures together, click the 'Puzzle' tab, 'Search' tab and type in 'Lily cat'.

For the first in Lily pictures (and set links), see here:
https://www.jigidi.com/created.php?id=CC93W33S


~~~~~~~~~~~~~~~~~~~~~~~~~~~~~~~~~

Lily's biography:

Lily is a rescue cat and was 7 years old when she finally got her 'forever home' in late 2016. She can be timid and can be shocked easily but is lovingly looked after now.

Favourite things: Sleeping, running, feather game, 'stinky mouse' (toy), looking out the window, the halogen heater, taking over the laptop, watching TV and petted when she demands it on her mum's lap. Supermonk lives there too but has to remain hidden for most of the time now, lol.

We will see how she progresses and tries to take Supermonk & Cheeky Monkey's thunder, with what she gets up to.

For an image of CM & SM see here:
https://www.jigidi.com/created.php?id=SFU2GJL7
(From here you can start from the beginning series of CM & friends if you like).


~~~~~~~~~~~~~~~~~~~~~~~~~~~~

Lily videos can now be found at this site:
https://www.youtube.com/channel/UCn7ia6V-biaDGA3m6qS9Qhw

All her videos can be found in the playlist there from now on.

(Initially stock ones will be put up)
How many accounts can a person have on Jigidi?

1 account; or 2 if you have a creative need for a second account - but this requires transparency in your profile descriptions that you hold both accounts. To trust each other and interact with our shoulders down and hearts soft, we all must know with whom we are communicating.

Read more about what to do if you have more than one account on Jigidi.