A girl with cotton stockings never sees a moose." - (excerpt from TIM's Wise Old Sayings)
A girl with cotton stockings never sees a moose." - (excerpt from TIM's Wise Old Sayings)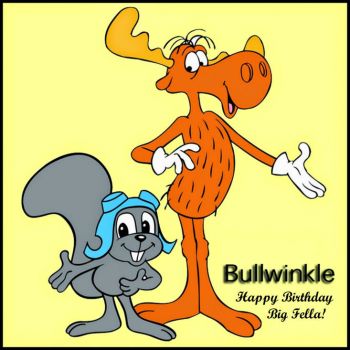 Why are you reporting this puzzle?
I know, I know.... this is a day late, but I was celebrating Bullwinkle's Birthday with Natasha, Boris, Snidley Whiplash, Mr.Peabody, Sherman and the rest of my friends. We were doing shots of chocolate milk and reminiscing about the "good ole days"... Metal Munching Mice, herding snakes, Upsidasium, The Three Mooseketeers, Wossamotta U and other remarkable achievements. Needless to say I passed out early while the party raged on....

Born September 24, 1870 - Georges Claude, French physicist that invented the neon light (1910). Thanks to Georges Claude's flashing neon "OPEN" sign, drunks everywhere would know if their favorite bar was still open... or if they should throw a rock through the bar's front window

September 24, 1952 - The first Kentucky Fried Chicken franchise opens, featuring the recipe of 11 secret herbs and spices created by Colonel Sanders. By 1963 there were 600 KFC restaurants making it the largest fast food chain in the U.S.. By early 1964 various criminal gangs, including MS-chicken, Hell's Chickens and the Mexican Chicken Cartel had put a bounty on Colonel Sanders head... a meatless McChicken sandwich to the first to bring Colonel Sanders in... baked or fried

September 24, 1929 - "First Blind Airplane Flight". Jimmy Doolittle takes off and lands an airplane using only instruments. The Army Air Corp insists there with no casualties, but it was later revealed that Jimmy Doolittle broke his white cane and blacked-out eye glasses during the landing

September 24, 1852 - First Flight of a Dirigible. Henri Giffard of Paris flies his hydrogen-filled 3-horsepower steam-powered craft. Henri Giffard flew his dirigible solo, with Daisy, his favorite cow in the cargo hold in case the dirigible suffered a leak. Daisy's flatulence would be used to keep his "lighter than air" craft aloft.

Born September 24, 1883 - Franklin Clarence Mars - Founder of Mars, Inc., maker of the Milky Way (1923) and Snickers Bar (1930). Franklin Clarence Mars was also an inspiration to the creation of Weight Watchers, the makers of Spandex, Acne medications, LA Fitness gyms and the makers of liposuction devices

And of course the reason for this pointless piece of trivia, September 24, 1961 Bullwinkle got his own show when NBC debuts The Bullwinkle Show. At 58 years old yer lookin' good big fella... but your antlers are starting to droop....

All in all, September 24 has been a good day to mankind. Only good things have happened on September 24...... if you can manage to ignore that in 1672 the Prime Minister of Holland and his brother were lynched by an angry mob who proceeded to eat their body parts, including their roasted livers. I'll have to look up when Barbeque sauce was invented...