"The Tambourine Girl"
"The Tambourine Girl"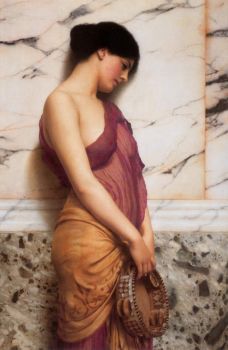 Why are you reporting this puzzle?
John Godward was from a rich family who did not approve of him becoming an artist, and they were strongly against it. He still went ahead and became a follower of Sir Lawrence Alma-Tadema without his father's consent. This made his family to cut him off to the extent of them removing him in all family pictures. He was an art student at the royal academy, and this is where he showcased most of his art pieces. He went to Italy in 1912 with one of his models, and this was the final blow with his family ties. When in Italy he faced many challenges about his art as people did not appreciate his style and they thought it was old fashioned. At this time Picasso's art style was becoming famous, and most people want art and paintings which were modern. John William painting style was more focused on paintings of women in silk clothes which was regarded as to Victorian and Neo-classicism which was coming to an end. He returned to England in 1921 after having long and tiring career life in Italy. He committed suicide in 1922 by putting his head inside the oven; many people speculate that he suffered depression and this led to his death. He struggled with depression due to his artwork not being fully accepted in Italy and his family rejecting put a toll on him. He was buried in Brompton Cemetry in west London when he died his family burnt down all his papers, pictures and memoirs as they dimmed his act as a disgrace to the family. Most of his pictures were lost, and there is believed to be only one available portrait of him which can be traced. This has resulted in the life of a talented artist to be a mystery.