Objectif Lune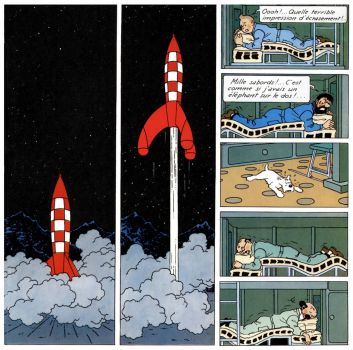 Why are you reporting this puzzle?
- Oooh!... What a horrible crushing sensation!
- Blistering barnacles!... It's like having an elephant on my back!

Destination Moon, 1953
Hergé (Georges Prosper Remi, 1907 – 1983)

Ligne claire (French for "clear line") is a style of drawing created and pioneered by Hergé, the Belgian creator of The Adventures of Tintin. It uses clear strong lines all of the same width and no hatching, while contrast is downplayed as well. Cast shadows are often illuminated, and the style often features strong colours and a combination of cartoonish characters against a realistic background. All these elements together can result in giving comics drawn this way a flat aspect.
(from Wikipedia)
What's up with Jigidi and erotica?

Blatant sexual objectification is not allowed on Jigidi. You'll find our review criteria for erotica here, along with a more in-depth rundown on our stand on blatant sexual objectification on Jigidi.