Paul Cézanne: Selbstporträt (1878-1880)
Paul Cézanne: Selbstporträt (1878-1880)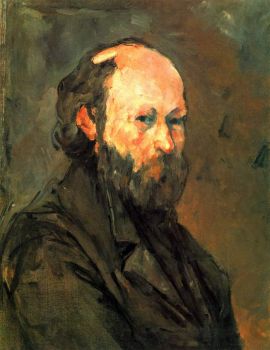 Why are you reporting this puzzle?
Paul Cézanne (1839-1906) war ein französischer Maler. Cézannes Werk wird unterschiedlichen Stilrichtungen zugeordnet: Während seine frühen Arbeiten noch von Romantik – wie die Wandbilder im Landhaus Jas de Bouffan – und Realismus geprägt sind, gelangte er durch intensive Auseinandersetzung mit impressionistischen Ausdrucksformen zu einer neuen Bildsprache, die den zerfließenden Bildeindruck impressionistischer Werke zu festigen versucht. Er gab die illusionistische Fernwirkung auf, brach die von den Vertretern der Akademischen Kunst aufgestellten Regeln und strebte eine Erneuerung traditioneller Gestaltungsmethoden auf der Grundlage des impressionistischen Farbraumes und farbmodulatorischer Prinzipien an.
Seine Malerei rief in der zeitgenössischen Kunstkritik Unverständnis und Spott hervor. Bis in die späten 1890er Jahre waren es hauptsächlich Künstlerkollegen wie Pissarro, Monet und Renoir sowie Kunstsammler und der Galerist Ambroise Vollard, denen sich Cézannes Schaffen erschloss und die zu den ersten Käufern seiner Gemälde zählten.
(Quelle: www.wikipedia.org)

Paul Cézanne (1839-1906) was a French painter. Cézanne's work is assigned to different styles: While his early works are still characterised by Romanticism - such as the murals in the Jas de Bouffan country house - and Realism, he arrived at a new pictorial language through intensive engagement with Impressionist forms of expression, which attempted to consolidate the dissolving pictorial impression of Impressionist works. He abandoned the illusionistic distant effect, broke the rules established by the representatives of Academic Art and strove for a renewal of traditional creative methods based on the Impressionist colour space and colour modulatory principles.
His painting provoked incomprehension and ridicule among contemporary art critics. Until the late 1890s, it was mainly fellow artists such as Pissarro, Monet and Renoir as well as art collectors and the gallerist Ambroise Vollard who became aware of Cézanne's work and were among the first buyers of his paintings.

Paul Cézanne (1839-1906) fue un pintor francés. El trabajo de Cézanne está asignado a diferentes estilos: Aunque sus primeras obras siguen estando influidas por el romanticismo - como los murales de la casa de campo Jas de Bouffan - y el realismo, llegó a un nuevo lenguaje pictórico gracias al estudio intensivo de las formas de expresión impresionistas, que trató de consolidar la impresión pictórica delicuescente de las obras impresionistas. Abandonó el efecto ilusionista de la distancia, rompió las reglas establecidas por los representantes del Arte Académico, y se esforzó por una renovación de los métodos creativos tradicionales basados en el espacio de color Impresionista y los principios moduladores del color.
Su pintura provocó incomprensión y burla entre los críticos de arte contemporáneo. Hasta finales de la década de 1890, fueron principalmente compañeros de profesión como Pissarro, Monet y Renoir, así como coleccionistas de arte y el galerista Ambroise Vollard, quienes conocieron la obra de Cézanne y estuvieron entre los primeros compradores de sus cuadros.