Algernon Talmage (British, 1871–1939), The Sulphur Dip for Mange (1917–1919)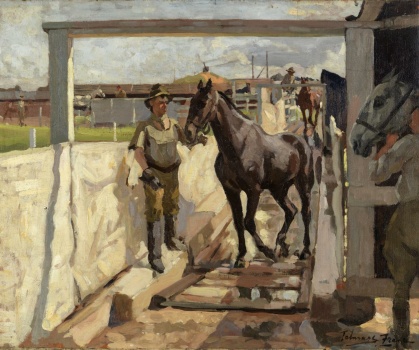 Why are you reporting this puzzle?
Oil on canvas
51.0 x 61.3 cm
Canadian War Museum, Ottawa, Ontario

During his childhood, Talmage had an accident with a gun, permanently injuring his right hand; as a result, he painted with his left hand and was exempt from active service in the First World War. He became a war artist on the Western Front in France.

From the War Museum's website:

Veterinary units and over seven thousand horses sailed with Canada's First Contingent to England in October 1914. At its greatest strength, the Canadian Corps had more than 23,500 horses. Most of English artist Algernon Talmage's paintings were based on time spent near Quéant, on the Hindenburg Line, in 1918.
Are you curious about how do we review content on Jigidi?

At Jigidi, we celebrate what connects us and steer clear of divisive content because how we meet each other matters. It forms us. When we review the content, we use four 'lenses' and look for what the image or comment is most.