Bamboo rat eating bamboo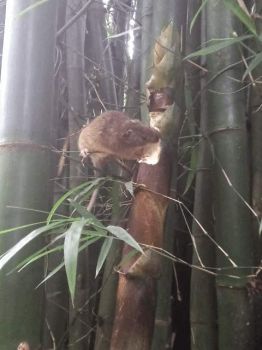 Why are you reporting this puzzle?
Bamboo-rat (Kannabateomys amblyonyx) having lunch on Bambusa vulgaris. It is not really a rat. Like the Capivara it belongs to the rat like rodents. Kannabateomys lives in the Atlantic rainforest, loves our bamboo and is not shy at all. At night it calls out for his girlfriend with an shrill whistle.
Are you a competitive or more a meditative solver?

You can adjust whether to have the timer show or not when you solve your puzzles. You'll find how to in our puzzle player guide.