Christen Dalsgaard, "A Convalescent", 1870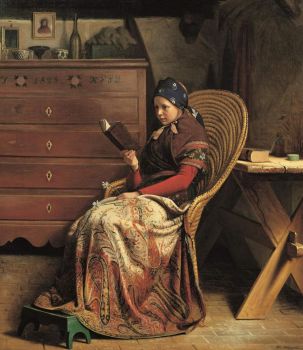 Why are you reporting this puzzle?
Christen Dalsgaard (1824 – 1907) was a Danish painter, a student of Christoffer Wilhelm Eckersberg.

Christen Dalsgaard, like his contemporaries Julius Exner and Frederik Vermehren, painted primarily genre paintings, national romantic folk scenes rooted in the grasslands of Jutland. He paid great attention to details – folk costumes, the manners and habits of the people, and architecture and landscape. He was a storyteller. His artistic works, as well as those of his contemporaries, opened the way for more realistic paintings in the late 1800s.

A collection of his work can be found at the Skive Art Museum. Other paintings can be found at the National Museum of Denmark in Copenhagen, among other museums.