''The Fowl Ball'' by Robert Deyber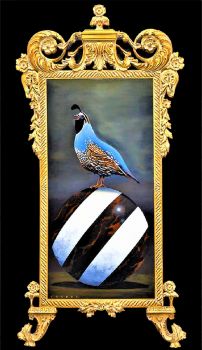 Why are you reporting this puzzle?
.
(◕Ϫ◕) (◕Ϫ◕) (◕Ϫ◕) (◕Ϫ◕) (◕Ϫ◕) (◕Ϫ◕) (◕Ϫ◕) (◕Ϫ◕)

From Wikipedia:
Robert Deyber is an American artist most known for
literal visual portrayals of cliches, euphemisms and
idioms from the English and other languages.
The San Francisco Examiner in 2009 described him as
a "pop surrealist" whose style "has appeal for new as
well as experienced collectors."
Born: Aug 1955 · Greenwich, CT

(◕Ϫ◕) (◕Ϫ◕) (◕Ϫ◕) (◕Ϫ◕) (◕Ϫ◕) (◕Ϫ◕) (◕Ϫ◕) (◕Ϫ◕)

From the author, Robert Deyber, 2016:

My work is heavily rooted in the Rebus Art Form from 15th century Tudor England, and has been described as both kitsch and absurdist.

Prior to pursuing it full time, I had been painting as a hobby since my teen years. After the events of 9/11 terminated my career as an airline industry executive, I began this series in 2002. My work arose from one particularly nauseating colloquial expression from the late 1990's…. "We need to start thinking outside of the box". After hearing the phrase repeated approximately 3,043 times I sketched a man standing in an open box with a lightbulb above his head. Thus began my compulsion to visually interpret all of the moronic, insipid, and fascinating phrases we say and hear on a daily basis.

For the past ten years, I have been doing both freelance work, as well as painting full time for the Martin Lawrence Gallery. Prior to my association with the gallery I was involved in freelance illustration work, creating the artwork for Tom Petty's Highway Companion album, as well as The Band of Heathen's self-titled album. I have an international collector base including notable people such as: King Abdullah II of Jordan, The U.S. Embassy in Stockholm, Alicia Keys, Sheryl Crow, Swizz Beatz, Roger Waters (Pink Floyd), Josh Brolin, and Aaron Paul.