Cape Jaffa ..Kingston SE. Australia.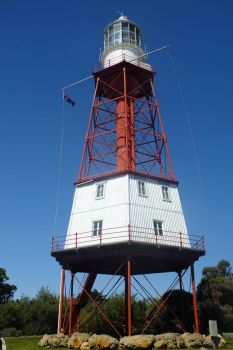 Why are you reporting this puzzle?
Cape Jaffa Lighthouse is a decommissioned lighthouse formerly located on Margaret Brock Reef near Cape Jaffa on the south east coast of South Australia and whose tower has been located in the town of Kingston SE since 1976. The former lighthouse tower is owned by the National Trust of South Australia who operates it as a museum. The platform which supported the tower is still in place at Margaret Brock Reef as of 2014.
The lighthouse took three years to build and was opened on 6 January 1872. It was originally built 8 km out to sea from Cape Jaffa on the Margaret Brock Reef. One particular shipwreck, the SS Admella was cited at the time as the reason for commissioning the lighthouse.
Do you know how to save puzzles for later?

If you want to save a puzzle for later, you can bookmark it, and it will stay in your bookmarks – waiting for you ☺