My Daring Mission......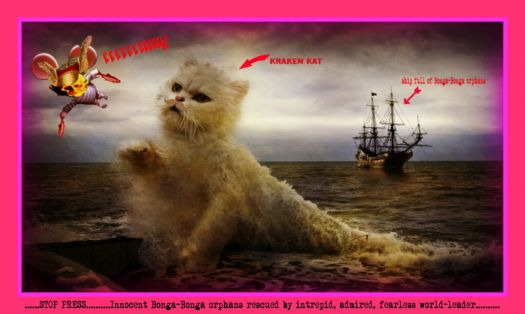 Why are you reporting this puzzle?
Greetings, loyal followers of all things Bugosiian.......
I am just back from a daring rescue operation, in the high seas of Nether-Bonga-On-The-Rocks......
News reached my ever-receptive ears of a ship in peril on the seas.....a ship full of wide-eyed, innocent ORPHANS, who were being transported to Siberis......I mean, who were being sent to kind, loving homes in Canada (where there is a shortage of orphans).......
They were being attacked by the fabled, feared and ferocious feline, the MOUSTACHIOED KRAKEN KITTY!!
There was no time to lose, so after finishing my ice cream, I donned my winged-helmet-thingy, and boarded the bus bound for Nether-Bonga-On-The-Rocks......Arriving late in the afternoon, I decided to take a room for the night, with the intention of setting off for the high seas, first thing in the morning.....
My alarm went off at the crack of dawn, but unfortunately I did not hear it, due to my ear-plugs performing their duty exceptionally well.....I eventually awoke at midday, wondering where the hell I was......Then remembered my urgent mission......
I headed for the local fishmongers and purchased the biggest red herrings available, then stopped for breakfast before taking flight in pursuit of the moustachioed moggy......
When I got to the scene of the crime, the Kraken Kitty was about to devour a dozen shrieking orphans, so acting quickly, I flung the red herrings into the air, the kitty tried to catch them, but only succeeded in falling on its back.....
As the Moustachioed Kraken Kitty cannot swim on its back, I knew that victory was mine, and I took my leave, to the cheers of the innocent orphans as they continued on their journey.......