Making Easy Mexican Mole Sauce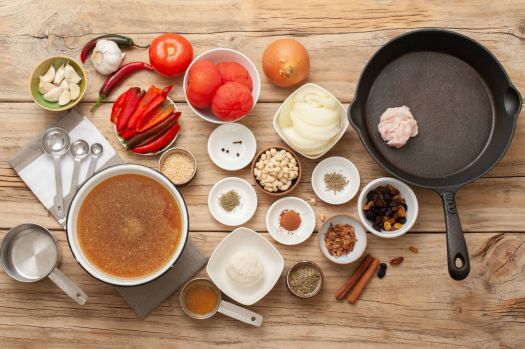 Why are you reporting this puzzle?
Ingredients
1/4 cup pork lard
1 onion (peeled and sliced)
8 cloves garlic
3 tomatoes (roasted and peeled)
1/4 cup peanuts (unsalted, or sub unsweetened peanut butter)
1 tablespoon Mexican oregano (dried and crushed)
1 stick cinnamon (broken into small pieces)
1/4 teaspoon anise seeds
3 peppercorns (whole)
1/4 teaspoon thyme
1 clove (whole)
1 teaspoon cocoa powder
12 guajillo chiles (soaked in hot water, skinned, stemmed, and seeded)
1/4 cup raisins (soaked in water to soften)
1/4 cup prepared masa (raw corn tortilla dough)
4 cups chicken broth
Garnish: toasted sesame seeds

Gather the ingredients.

Heat the lard in a large skillet over medium-low to medium heat.

Add the onions and garlic and cook until the onions turn translucent about 8 to 10 minutes. You do not want the onions to turn brown; adjust the temperature as necessary. When the onions soften enough to drape over your spatula, set the skillet aside.

In a blender, purée the roasted tomatoes with the peanuts or peanut butter.

Add the oregano, cinnamon, anise, peppercorns, thyme, clove, and cocoa powder, and blend to make a smooth paste.

Add the sautéed onions and garlic to the blender container and purée again.

Add the chiles and raisins and blend into a smooth paste.

Pour all of the chicken broth except for 1/4 cup into a large saucepan.

In a separate small bowl, make a roux by whisking the masa with the reserved 1/4 cup of chicken broth.

Stir the roux into the broth and whisk until smooth.

Add the puréed ingredients to the pan. Cover and simmer for 1 hour.

Uncover and continue cooking until the mole turns thick and aromatic.

Use your homemade mole as a sauce for chicken or turkey or chunks of pork, sprinkling toasted sesame seeds over each portion as you serve.

Any leftover mole tastes delicious spooned over rice or fried eggs or used as an enchilada sauce.

Use Caution When Blending Hot Ingredients
Steam expands quickly in a blender, and can cause ingredients to splatter everywhere or cause burns. To prevent this, fill the blender only one-third of the way up, vent the top, and cover with a folded kitchen towel while blending.

Traditional Mole
Traditional moles often contain 40 or more different ingredients and take multiple days to prepare.

You can find prepared mole paste—ready to eat after diluting and heating—in supermarkets both within and outside of Mexico.