Jean-Léon Gérôme. "The Bath"
Jean-Léon Gérôme. "The Bath"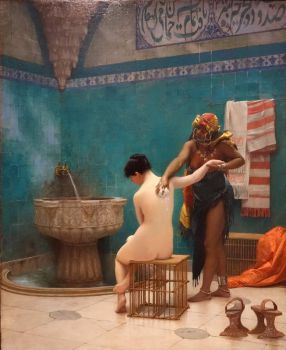 Why are you reporting this puzzle?
Jean-Léon Gérôme was born at Vesoul, Haute-Saône. He went to Paris in 1840 where he studied under Paul Delaroche, whom he accompanied to Italy (1843–44). He visited Florence, Rome, the Vatican and Pompeii, but he was more attracted to the world of nature.

In 1856, he visited Egypt for the first time. Gérômes recurrent itinerary followed the classic grand tour of most occidental visitors to the Orient; up the Nile to Cairo, across to Fayoum, then further up the Nile to Abu Simbel, then back to Cairo, across the Sinai Peninsula through Sinai and up the Wadi el-Araba to the Holy land, Jerusalem and finally Damascus. This would herald the start of many orientalist paintings depicting Arab religion, genre scenes and North African landscapes. In an autobiographical essay of 1878, Gérôme described how important oil sketches made on the spot were for him: "even when worn out after long marched under the bright sun, as soon as our camping spot was reached I got down to work with concentration. But Oh! How many things were left behind of which I carried only the memory away! And I prefer three touches of colour on a piece of canvas to the most vivid memory, but one had to continue on with some regret." He did not only gather themes, artefacts and costumes for his oriental scenes, but also made oil studies from nature for their backgrounds. Several of these quick sketches are filled with details that exceed his wished for three touches of colour.