Leftovers-2022-5-22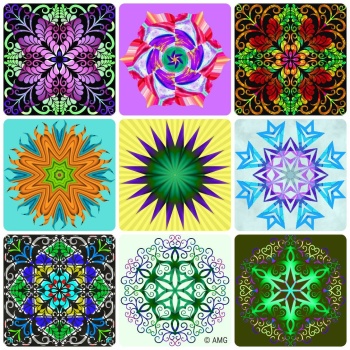 Why are you reporting this puzzle?
Kaleidos were made from designs by Francine (bookish), Jacki (bluebird42), Shirley (Shian2) and Sue (sue1). From top to bottom and left to right here's whose design was used for each:

Francine Jacki Jacki
Shirley Shirley Shirley
Sue Shirley Shirley

Thank you, friends.

I'M TAKING A BREAK FROM MAKING KALEIDOS. I can do a leftovers next Sunday and then I'll see. I shall be posting my own photographs on ringleader2.
What are the symbols on the jigsaw puzzles?

When you browse jigsaw puzzles on Jigidi, you may notice different symbols on the puzzles. One symbol lets you bookmark the puzzle for later, and other symbols tell you about any previous activity you may have on the puzzle.