Re-ment Produce veg 2 JAN19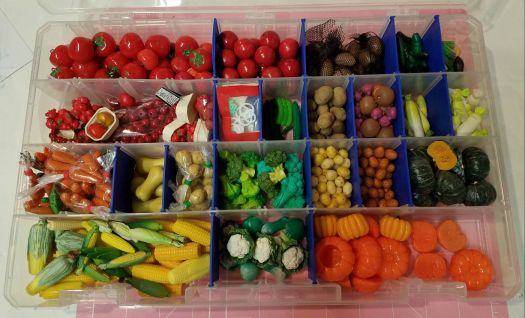 Why are you reporting this puzzle?
Inventory pic for miniature supermarket diorama I'm working on.
As you can see, the quality varies. Some are very realistic, and some are toys made for Barbie by Mattel and other companies. The colors are sometimes crazy, like the purple bell peppers! And there's not always a lot of thought to scale. The corn sizes vary greatly. I will repaint the pieces that are the wrong color, and add detail with paint to some. These will go in bins and coolers just like in a real store, so the less realistic pieces will go on the bottom, and the better ones on top.
Did you know you can invite a friend to a jigsaw puzzle?

Sometimes we come across a fantastic puzzle or interesting comments and think of a friend who would appreciate sharing our experience. Here is how you invite a friend to a jigsaw puzzle on Jigidi ☺