Citrus Summer Prints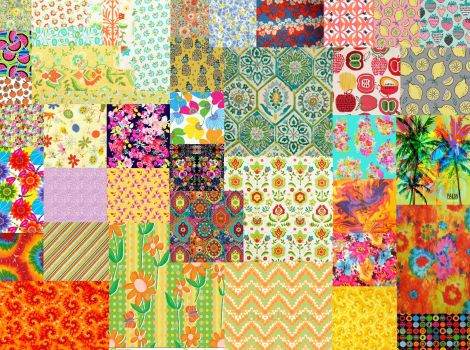 Why are you reporting this puzzle?
Many apologies for the long hiatus since I last posted. Life and a lack of internet happened, so I ask you to forgive me. I'm back at College, double vaccinated, thank goodness, although there are questions about the protection it offers against the Delta variant which is rampant in the country. Lots of sanitizer, hand washing and constant mask wearing is hopefully going to keep the evil lurgy at bay. All of my one cousin's family have had it in Johannesburg and got through it but felt pretty dreadful for a week or more.

Sadly, it seems as if it is re-igniting the Covid pandemic in many countries but with a backlash by some against the re-imposition of control measures. Countries are having to deal with anti-vaxx, anti-mask and anti-lockdown protests. I must admit to rolling my eyes at times and muttering under my breath, not too sure whether it's at government or the protesters I have to say. Both sides have points and both sides are wrong in some ways. The curse of seeing both sides of an argument I'm afraid!

Anyway, the Olympics have gone ahead despite it all, with its usual stories of tragedy, comedy and triumph against the odds. Olympics not as usual has meant empty stadiums and instead of being awarded your medal, you have to pick it up from a tray and put it around your own neck - not quite the proper celebrations for athletes who have had the most difficult run-up to the games. On, off, on again, off again, isolation, lockdown, vaccinations, etc.

South Africa has seen it's fair share of disasters with the occasional ray of light mostly from women in individual sports. Tatjana Schoenmaker won South Africa's 11th gold medal at the Olympic Games since readmission in 1992 with a world-record performance in the women's 200 metres breaststroke on Friday 30 July. Friday's triumph is in addition to Schoenmaker's silver medal in the 100m breaststroke earlier in the week.

The other is our local surfer Bianca Buitendag, who surfs and trains in our local beaches. She is a 27-year-old surfer from South Africa, and barely made it to the Tokyo Olympics. She was set to retire years ago. She had a false-positive coronavirus test just days before departing for Japan. Two days before her flight to Tokyo, Buitendag's coronavirus test came back positive. She underwent a full medical examination, submitted blood samples and received two consecutive negative tests. She got on the plane. On the final day of competition, she missed not one but two buses to Tsurigasaki Surfing Beach, the Olympic venue.

unlike some competitors who had entourages of managers, coaches and videographers, Buitendag had one person waiting for her on the beach: her coach, Greg Emslie another local East London boykie. In the semifinal on Tuesday, she faced Caroline Marks, an American favorite, but it was another win for Buitendag. Finally, she was in the gold-medal heat against the American Carissa Moore — and lost, taking silver.

She said: "Most importantly - although I like to believe that I'm tough and independent, I want to acknowledge my Heavenly Father, who has held my hand tightly through all these years - through the dark and scary. He has been my best friend, my closest companion.
Ever since my first contest at 8 years old, my last sentence before every heat has been, "Father, I trust you, have your way." After all these years, I can confidently stand knowing that His will did, indeed, prevail."

Information from News24, Talya Minsberg, New York Times

Credits: MargheritaLeoni, Anne Boghossian, Behance, Kate Morgan Studio, Coquide Vicente, Chula, Louise Jones, premioestampabrasil,Luana Yokoyama,Shutterstock,Maria Blanca Cuervo,Raoul Dufy,123rf, Camille Frances, LabStyle, BurcuKorkmazyurek, eQuilter, Wall Art Prints, Shelley Steer
What is the filter for?

Some puzzles are shown behind a filter. These puzzles are within our guidelines but still is material of which some will take great offence. Read more about the reasons and workings of the content filter and how you can set your account up to either see or not see puzzles that are shown behind a filter.