Willy Lott's Cottage, Suffolk, England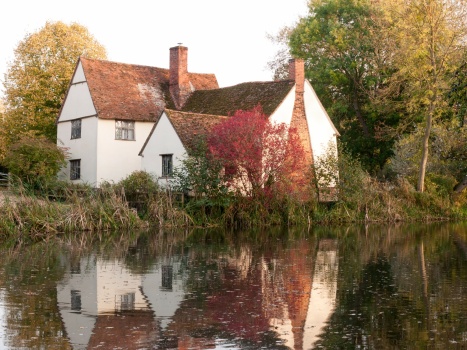 Why are you reporting this puzzle?
In Today's Daily Jigsaw Puzzle, we go back in time to visit
Willy Lott's Cottage
.
Willy Lott's Cottage is an iconic, Grade I-listed building in Flatford, East Bergholt, Suffolk, England. This 16th-century thatched cottage, built primarily of timber with wattle and daub infill, embodies the quintessence of English rural life and architecture.
The cottage is intrinsically linked to the celebrated English Romantic painter John Constable, born in East Bergholt. Constable immortalized Willy Lott's Cottage in several of his paintings, but most famously in "The Hay Wain" (1821), which depicts a horse-drawn cart in front of the cottage with the idyllic backdrop of the River Stour. This painting, among others, solidified the cottage's place in the annals of art history.
Historically, Willy Lott, the cottage's namesake, was a farmer who lived there for his entire life, spanning nearly a century. The very fact that he resided in the same home for such an extended period, particularly in that era, made the cottage a point of local interest.
Today, preserved by the National Trust, the cottage and its surroundings transport visitors back in time, offering a glimpse into the pastoral settings that profoundly influenced Constable's oeuvre. The estate remains a magnet for art enthusiasts, historians, and those seeking the serene beauty of the English countryside.
And we get it – the soothing serenity of the scene makes us want to linger…
Would you like to learn more about John Constable's painting of Willie Lott's House? Then
we found this gem for you
♥