Dining on the Titanic - Third-Class menu
Dining on the Titanic - Third-Class menu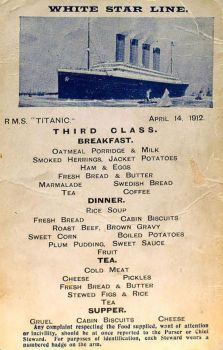 Why are you reporting this puzzle?
From the website Dusty Old Thing:

Third Class (Steerage) Menu

The third class dining room was even more like a cafeteria, with many of the decorative trappings omitted. Notice the very low and functional ceilings. It was a signal to all who entered that only the bare minimum had been paid for.

The third class menu for the 14th of April was so short that the whole day fit onto one sheet of paper: breakfast, lunch, and dinner.

For breakfast there was oatmeal with milk, smoked herring, jacket potatoes, ham and eggs, fresh bread with butter (this was probably a free side dish in first class and not even mentioned on their menu), marmalade, and Swedish bread (like a sweet rye bread)- all served with tea or coffee.

"Lunch" is not listed, instead the working class term of "dinner" is used. This illustrious meal was to be comprised of rice soup, bread, cabin biscuits (which are glorified crackers), roast beef with gravy, sweet corn, boiled potatoes, and a choice of plum pudding or fresh fruit for dessert.

The supper meal was referred to as "tea" and contained cold meat, cheese, pickles, stewed figs with rice, and tea. The dinner meal, resembling a late snack, was called "supper" and consisted of more cabin biscuits, cheese, and gruel. It's hard to imagine gruel listed as a menu item on a world class ship, but here it is. No beer was on offer for this group.

The bottom of this menu, unlike the other two menus, contains a note about those who wished to decry the poor food in third class, "Any complaint respecting the Food supplied, want of attention or incivility, should be at once reported to the Purser of chief Steward. For purposes of identification, each Steward wears a numbered badge on the arm."