Flower shop in Amsterdam, Netherlands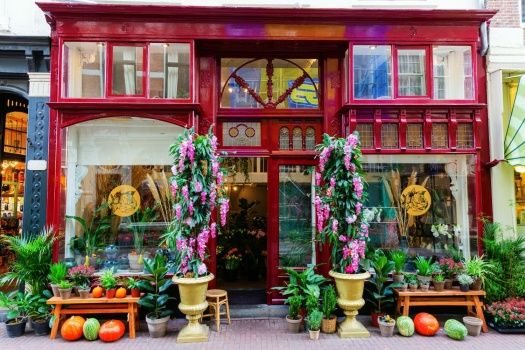 Why are you reporting this puzzle?
In Today's Daily Jigsaw Puzzle, we're in Amsterdam – about to enter this gorgeous flower shop.
When you think of the Netherlands and flowers, does a particular flower come to mind?
Yes, the tulip!
The Netherlands is intrinsically tied to the history of the tulip, despite the flower being originally from Central Asia. The flower reached the Dutch shores in the 16th century. It quickly became a status symbol due to its vibrant colors and rarity. This led to the 17th-century phenomenon, "Tulip Mania," considered the first major financial bubble.
In fact, tulip bulbs became so coveted that they were used as currency, with some single bulbs selling for prices higher than houses. The bubble eventually burst, causing a severe economic crisis. However, the Netherlands' love for tulips endured.
Today, the country is the world's leading tulip exporter, with fields that blossom into stunning colorful landscapes every spring.
The Keukenhof Gardens in the Netherlands, known as the "Garden of Europe," are famed for their spectacular tulip displays, attracting visitors worldwide.
Would you like to
visit Keukenhof Gardens with us
and learn much more about the gardening secrets of the place (for instance, how do you go from 2 weeks of blooming to 6 six weeks?) ♥