April Virtual Party (Apr21P04) - All Are Welcome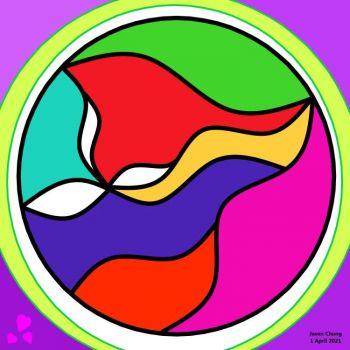 Why are you reporting this puzzle?
"They came on one of April's most brilliant days
– a day as sparkling as a newly-washed lemon…
a day when even the shadows were a melange of blue and orange and jade,
like the shadows that poured from the tipsy brush of Monet."
– Beverley Nichols


Dear Friends, Jigidiers and Guests,

April is a special month for me as my best friend, John celebrates his birthday on 4 April.

For this joyous occasion, I have selected Jeju Island, South Korea as the virtual party venue for all April babies and couples celebrating their wedding anniversaries as well as for friends who have a special occasion that they would like to celebrate.

Please feel free to invite your friends, whom you know will enjoy a virtual party, to this event by tagging them to this puzzle. Thank you.

John and I have been to South Korea several years ago. So, it is a pleasure to share this virtual trip to stunning and pristine Jeju Island ("South Korea's Hawaii") with all of you.
Jeju Island has been voted as one of the New Seven Wonders of Nature.

Jeju Island ( 제주도) is where we will find white sand beaches, clear blue ocean, black volcanic rocks by the shore mountains, pristine pine forests, waterfalls, beautiful botancial gardens, volcanic craters, lava tube caves, museums and theme parks.

Since in April we celebrate Easter, the Virtual Organiser has arranged a Hunt for Easter Eggs which will have prizes attached to them. We can claim these prizes from the Virtual Organiser. And what are the prizes? Well, just to name a few of them - Souvenirs of Jeju Island - bookmarks, pen, notebook, keychains postcards, coin purse, Omegi-tteok Rice Cake, etc.

There will also be a Lucky Draw. - The prizes will be Day Trips to Places of Interests in Jeju Island - for example, Discovering Eastern Jeju Island, Exploring Western Jeju Island, Visiting Southern Jeju Island, Day Trip to Udo Island, etc.

There are lots of things to do and many places of interest to visit in Jeju Island.
However, for this particular virtual party, I will introduce to all of you, the beaches only, and leave the rest of the attractions of the island for you to explore for yourselves :

John and I will definitely visit Seongsan Sunrise Peak. It will be the first place that we will visit when we wake up after having a restful sleep on arrival the night before.

- Seongsan Sunrise Peak (Seongsan Ilchulbong - 성산일출봉 ), a crater with views from the overlook at the top edge of the crater, where we will be able to see gorgeous sunrise and have magnificient views of the scenic coastline, beautiful ocean and clear blue sky as well as Udo Island and Jeju Island itself. There are lots of lush greenery and rare plant species. This is a UNESCO World Heritage Site and Jeju Island's most famous geographical feature and iconic attraction. The sunrise seen from this volcanic mountain is just spectacular - just watch the sun as it slowly makes its way above the horizon and lights up the ocean before you. When a cool breeze is blowing, we will feel so wonderful and relaxed.

The next day, John and I will visit these places :

- Seopjikoji (제주도 섭지코지) - located at the end of the eastern shore of Jeju Island is a famous coastal attraction. Here, we will be at an open site with the vast blue ocean in front of us. It is definitely a place where we can relax and enjoy vast open spaces and serenity - perfect for the body, mind and soul. John and I plan to stay for quite a while here - to admire the sunrise and to soak in the beautiful and famous coastline of Seopjikoji which is filled with canola flowers (rapeseeds) growing on the hill during Spring. We can see the yellow fields of canola flowers contrasting with the clear blue sky and the red soil. This place has beautiful rock cliffs, a lighthouse by the cliff, Seongsan Ilchulbong as the backdrop and the legendary Seonbawi Rock. The coasts of Seopjikoji is made of red volcanic ash. During very low tide, we can see strange rock formations.

- Sinyang Beach (신양 섭지코지해변) - located in Seongsan, Sinyang Beach is a fine grained sandy crescent-shaped beach. It is quiet, calm and pleasant here. John and I will be strolling along the coastline - we love to do that. It is a good place for windsurfing, kitesurfing, sailing and hiking. We will take a long walk to Supji Koji at the head of the peninsular. It is a pretty spot.

John and I will be visiting most of the beautiful beaches in this island as we would like to check out the coastline. We love to see the turquoise water as it washes over stretches of white sand or crashes into spectacular lava rock formations creating lovely plumes of spray. Do come and join us.

We will be driving along the circular coastal road that runs around the whole island and stop at some of the lovely beaches for a short visit and for photography, for example :

Pyoseon Haevichi Beach - This beach is in southeast Jeju Island and is one of the best places to watch the sunrise in Jeju. It has a large, circular sand beach that faces east. The water here is clear and shallow. It is a beach when at low tide, the water is far away, however, during high tide, the place becomes a shallow lagoon.

Jungmun Saekdal Beach - This beach is located in the southern part of Jeju Island. It is a secluded beach at the base of a tall cliff, thus making the landscape here beautiful and different from the other beaches. During high tide, the waves are usually strong, but at low tide, the water is shallow. It is a great place for surfing (from June to October) as its seacoast has a steep slope and high waves. Water skiing, parasailing, rafting and kayaking are popular water sports.

Hyeopjae Beach (제주도 협재 해수욕장) - This stunning beach with a curving bay is one of the most famous and renowned beaches of Jeju Island. It has a long shore of extra fine, dazzling bright white sand mixed with crushed shells that glitters with silver. The black rock formations with white sand makes this beach look spectacular. Its clear azure water is gorgeous. When the tide is low, the central part of the beach has pleasant shallow water. This beach has a glorious view of the nearby Biyangdo Island which is covered in greenery and surrounded by cobalt blue sea. The sunset here is dramatic and impressive - just watch the sun drops into the ocean and admire the varied warm colours of the sky.

Geumneung Beach - just as pretty as Hyeopjae Beach, but often a little quieter.

Geumneung Beach and Hyeopjae Beach are the two beaches of Hallim located about a kilometer apart from one another. The sunset is absolutely stunning at these 2 beaches.

Iho Tewoo Beach - This sandy beach has an unusual mixture of yellow and grey sand. It has clear sea, blue sky and it also has two impressive, iconic, landmark horse-shaped lighthouses , one is red and the other one is white. It is also well known as the place to see sunset and the night scene which has glimmering beautiful lightings.

Hamdeok Beach - This is a small beautiful beach, located on the north side of Jeju Island with white and golden sand and black rocks. It is popular with young people. The turquoise water here is always calm and shallow. This beach has stunning views. Once the tide goes out, we can explore Hamdeok's black lava rock pools. It is a good place to kayak and paddle. At night, the beach and the nearby buildings are illuminated. There are restaurants with sea views.

Gwakji Gwamul Beach - A white sand beach in the north of Jeju Island with sculptures carved out of the volcanic rock. This beach has white sand and black rocks. It has open-air spring water baths built from volcanic stone. There are male and female bath sections where one can enjoy a bath after an ocean swim.

Woljeongri Beach - A lovely beach located in the northeastern part of Jeju Island. It has sparkling turquoise water and white sand shores. There are windmills near this area. It has boardwalks, stylish beachfront cafes and new coffee shops that faces the beach. Woljeongri Beach is popular with young people.

Now it is time to welcome the April babies and all who have a happy occasion to celebrate in this month, for example, wedding anniversary couples.

Birthday and wedding anniverary cakes are now ready for cutting and distribution to all our friends who have gathered at the Grand Ballroom of the Virtual Resort Hotel that we are staying at Jeju Island.

Let us all raise our glass of champagne and toast to all the April babies and wedding couples, wishing them Good Health and Happiness.

May this Easter bring blessings of Love, Joy and Peace to all of you :-)

The Virtual Chef has informed me that Korean food is healthy food.

As I walk towards the buffet table, allow me to highlight some of the Korean dishes that our Virtual Chef has prepared for us :

APPETIZERS :

Kimchi - Korean Fermented Pickled Vegetables. The taste is spicy, salty, sweet and sour.

Dongchimi - A sliced White Radish Pickle with Onions, Garlic, and Ginger.

Kkaennip-jeon - A South Korean dish consisting of seasoned Ground Beef, thinly sliced Vegetables, Scallions, Garlic, Onions, Sesame Oil and Soya Sauce wrapped with Perilla Leaves (kkaennip). The parcels are then coated with Flour and Egg wash before they are pan-fried. It comes with a Dipping Sauce on the side.

Kimchijeon - South Korean Pancake made with sliced Kimchi and Flour Batter. It is served with a Dipping Sauce on the side.

Haemul Pajeon - A South Korean Pancake that is made of Rice, Eggs and Seafood (Shrimp, Squid, Oysters, and Fish).

SOUPS :

Janchi guksu - A noodle dish consisting of Somyeon Wheat Noodles served in a Clear Beef Broth flavoured with Kelp. It has garnishes of thinly Sliced Egg (jidan), Seaweed (gim), Carrots, Shitake Mushrooms, or Zucchinis. It is served with a Spicy, Soy Sauce-based dip (yangnyeomjang).

Samgyetang - A flavourful soup from South Korea, consisting of a Whole Young Chicken cooked with Ginseng, Garlic, and Rice. This soup will boost the immune system.

Seaweed Soup - 미역국 - this is Seaweed Soup served during birthdays.

MAIN COURSE

Bibimbap - 비빔밥 - Mixed Rice. The Rice is topped with Seasoned Vegetables - Spinach, Mushrooms, Carrots, Bean Sprouts, Beef, and Egg. It is served with a dollop of Gochujang (sizzling Red Pepper Paste) mixed with sesame seeds and soy sauce. This ezquisite combination of Rice, Vegetables, Meat, Egg and Seaonings are stirred together in one large bowl and eaten with a spoon.

Galbi Jjim - (한우) 갈비찜 - Marinated Beef Short Ribs that are usually served with some side dishes. The tasty tender meat will come off the bone easily.

Okdom Gui - 옥돔구이 - Grilled Sea Bream. This fish has a delicate taste and texture.

Jjimdak - 찜닭 - Korean Braised Chicken - This is a hearty and flavourful dish. Chicken, Vegetables (Potatoes, Carrots, Onions, Mushrooms, Cabbage, Red Peppers and Scallions), Sweet Potato Starch Noodles (dangmyeon, 당면), Minced Garlic, and Grated Ginger are braised in a dark sauce.

Korean Beef and Peppers with Sesame Rice - Stir fried sweet, spicy, and tangy Korean Beef, with Bell Peppers, and Green Onions served over Toasted Sesame Rice.

Tuna Kimbap - 참치 김밥 - Consisting of Cooked Rice, Tuna, Julienned Ham, Julienned Radish, Julienned Carrots, Seasoned Spinach, and Pickled Radish wrapped and rolled in a Seaweed Leaf, just as in sushi. It is then cut into cylinder slices. Kimbap is a very famous Korean seaweed roll that resembles Japanese sushi.

Jajangmyeon - 자장면 - A Noodle Dish made with a black bean sauce, Meat and a variety of Vegetables, eg. Zucchini and Potatoes.

Kimchi Bokkeumbap - Kimchi Fried Rice with chopped Vegetables and Meats.

DESSERTS

Hwajeon (Flower Cake) - South Korean Rice Pancake topped with Edible Flowers (eg. Azaleas, Pear Blossoms, Rose Petals or Chrysanthemums).

Yaksik - A rich and sweet Rice Cake made with Steamed Glutinous Rice, Honey, Pine Nuts, Dried Jujube Fruit and Chestnuts infused with a Dark Brown Sauce.

Chapssaltteok - made with Glutinous Rice and Red Bean Paste. It has a dense, chewy texture.

Yakgwa - a deep-fried round or floral shaped Korean dessert made with Wheat Flour and Sesame oil . These cookies are then doused with a sweet, Honey Syrup.

Patbingsu (Red Bean Ice Flakes) - a frozen dessert consisting of Shaved Ice, Condensed Milk and Sweet Azuki Bean Paste with Toppings of Fresh Fruits or Cereals.


BEVERAGES :

NON-ALCOHOLIC BEVERAGES :

Sungnyung - South Korean Drink that is made by pouring Water or Tea over Nurungji (a crispy layer of rice that is left on the bottom of the pan after the rice is cooked). It has a slightly nutty flavour. This drink is said to aid digestion when drunk after a meal.

Sujeonggwa - It made with Water, Dried Persimmon, Cinnamon and Ginger. It is believed to aid digestion. It can be served hot or cold.

Dalgona - A Frothy Whipped Coffee that is served on top of Milk.

Green Tea - well-known for its health benefits.

Barley Tea - aids in digestion.

ALCOHOLIC BEVERAGES :

Makgeolli - Korean Liquor made with Rice that is fermented with Nuruk (a traditional Korean fermentation starter). It has a slightly sweet flavour.

Soju - A clear spirit made with Fermented Rice. It is usually low in alcohol and has a mild flavour that goes well with many dishes.

For dinner, our Virtual Chef will be preparing Bulgogi (Fire Meat) for us.

Bulgogi - 불고기 - is a meal of thinly sliced or shredded Beef marinated in Soy Sauce, Sesame Oil, Garlic, Sugar, Scallions, and Black Pepper, cooked on a grill at the table. The Virtual Chef has also offer us thinly sliced Chicken, Pork and Squid.

When we return to the Grand Ballroom in the evening, we will find the place has been transformed into a Korean BBQ area as each table has a grill in the centre for grilling fresh meats. Virtual Servers will help us cook slices of meat (Beef, Chicken, Pork, Squid, etc), Garlic Cloves, Sliced Onions, and Green Peppers on the grill.

There will be a plate of Lettuce Leaves, Kimchi (Fermented Cabbage), Peppers and Garlic Cloves, These are meant to be eaten with the cooked slices of Meat - just place Rice, Cooked Meats, Kimchi, Garlic and Peppers on a piece of Lettuce and wrap them up, dip this into a Savoury Dipping Sauce and it is ready for eating.

We can enjoy our Bulgogi served over Rice or with a Side of Rice, Egg Soup and Banchan (a set of Korean Side Dishes). Our Virtual Chef has prepared Kimchi, Cucumber, Bean Sprouts, Radish, and Seaweed for us.

맛있게 드세요 (Masissge Deuseyo) - Bon Appétit.

As the host for this virtual party, I have selected a few souvenirs, as a memory of this visit and to thank you for gracing your presence with us :

- Jeju Tangerine Chocolate.

- Tangerine Biscuits (Hallabong Biscuits) - Crispy and delicious.

- A box of Jeju Tangerines (Gamgyul).

- Green Tea from Jeju Island - A healthy beverage with a refreshing taste.

- Wind Bells - a pottery item made in Jeju.


Dear friends, I hope that you have enjoyed this virtual party in Jeju Island, South Korea.
Please stay as long as you like. You can return and leave the party as you wish and there is no need to let us know that you will be leaving the party.

I look forward to seeing you at my next Virtual Party which will be held on 1 May 2021.
I will be looking forward to seeing and meeting up with all of you in May, especially if you have an occasion that you would like to celebrate with us :-)

Cheerio,
Jason :-)

This puzzle is posted in 4 sizes - 9, 100, 256 and 576 pieces.
Please enjoy and have fun solving this puzzle.


Puzzle 812

jasonchung2 is my main account.
I also post puzzles at jasonchung (my second account).
jasonchung1 (my third account) is now a sealed account, however, you can still solve puzzles there.
Are you a competitive or more a meditative solver?

You can adjust whether to have the timer show or not when you solve your puzzles. You'll find how to in our puzzle player guide.