Tiger Lillies, Leon Carroll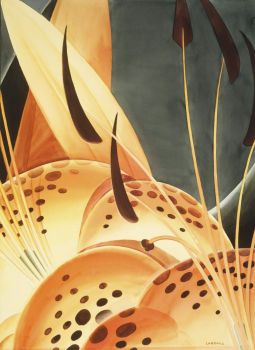 Why are you reporting this puzzle?
Leon Carroll (American, 1887-1937).
Tiger Lillies, ca. 1930.
Watercolor on paperboard, 27 1/2 x 21 in. (69.9 x 53.3 cm).
(Photo: Brooklyn Museum, 30.968.jpg)

According to Connecticut State Library (ctstatelibrary.org):
"There is little known about Leon V. Carroll. He specialized in painting floral still life. He exhibited at shows and galleries in New York City and Connecticut. In 1937 he created three easel paintings for the WPA Federal Arts Project. Though his dates of birth and death are known, the places of these events are not.

Sources: WPA Artist's Work Card; AskART; "Here, There, Elsewhere," New York Times, November 3, 1940."

From Wikipedia, the free encyclopedia:
"Lilium lancifolium
Tiger Lily

Lilium lancifolium (syn. L. tigrinum) is an Asian species of lily, native to China, Japan, Korea, and the Russian Far East.[1] It is widely planted as an ornamental because of its showy orange-and-black flowers, and sporadically occurs as garden escape in North America, particularly the eastern United States including New England,[2] and has made incursions into some southern states such as Georgia.[3]

It has the English name tiger lily, but that name has been applied to other species as well."
How do you follow a puzzle?

When you follow a puzzle, it means you receive notifications about new comments on the puzzle.