Castles - Day 6 (last day)
Castles - Day 6 (last day)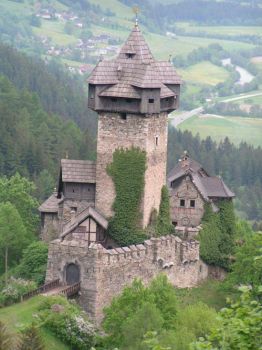 Why are you reporting this puzzle?
Falkenstein castle near Obervellach, Austria
Falkenstein towers over the Möll valley near Obervellach as a picturesque "fairy-tale castle". Slightly higher up, Oberfalkenstein castle is now a ruin.

Formerly a fortified outpost, Oberfalkenstein castle was first mentioned in the documents in 1307, as "daz nidre Valchenstayn". Subsequently the complex was given in grant as a separate fief, making it a stand-alone property.

After changing hands on numerous occasions, in 1693 Falkenstein castle came into the possession of Freiherr Wenzel von Sternbach, and his family retained ownership of it until 1883. The lordship of Falkenstein was finally dissolved as late as 1848. In 1905 Hofrat Ferdinand Kaltenegger von Riehorst acquired Falkenstein castle and it was he who gave it its present appearance. He had the tower - which had already been a ruin by the 17th century - renovated in the style of the 16th century. His plan was to give Emperor Franz Josef I a spectacular surprise on the occasion of the opening of the Tauern Railway on 5th July 1909.

In 1968 part of the castle was destroyed by fire. However, the mighty tower of Unterfalkenstein was restored to its previous condition in the Romanesque style.