"Street in Venice" (1882) by John Singer Sargent.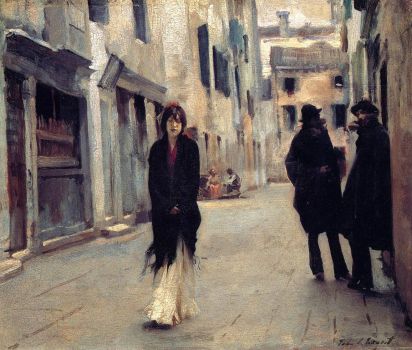 Why are you reporting this puzzle?
Painted in a post-impressionist manner, "Street in Venice" is set in a quiet backstreet off the Calle Larga dei Proverbi, near the Grand Canal in Venice. From the manner in which Sargent depicts her down-turned eyes and seemingly fast pace with which she passes the two men, he is concerned largely with the invasive male glare and its effect on the passing woman. The painting is one of a number of Venetian scenes painted or drawn by Sargent, who spent most of his life in Europe, during his time in the city. As in his other works, it largely ignores the architectural aspects the city is best known for and focuses instead on edgy back-street imagery.