The 4 Little ones: a Sad update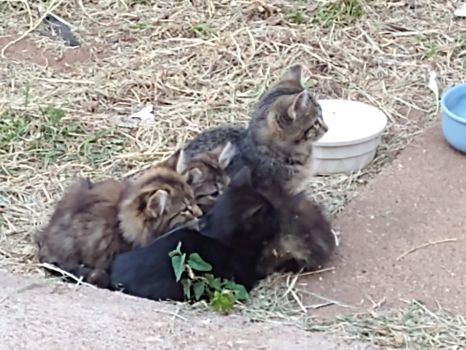 Why are you reporting this puzzle?
Well, I've waited to post this for several days hoping against hope. I checked on these 4 (Peekaboo, Street, Not Me & Never Me) Sunday evening about 6:30 or 7PM and they were cuddled up in pairs in 2 yard chairs, healthy and happy.
The next morning, Monday, I went out to feed them and the older litter and saw only the 4 bigger kids. My heart sank! I called, checked the yard, garage, alley, there are no storm drains or the like. There was noting amiss in the yard, no tracks, no disturbances, everything was perfect except these 4 little guys were gone! Vanished! AND I've checked the Animal Control website and called to see if maybe they were turned in. Nope!
I've looked, hoped, wished, prayed top no avail and Mama G and I both are just heartbroken and are having to admit that they won't come back. We all hope that mom came back and relocated them somewhere else, or that someone lovingly adopted them rather than fearing the worst.
Meanwhile ... the yard is empty and the big kids miss them too, they don't even want to play with the toy. Somehow it was more fun I guess dodging the little guys.
I'll keep you posted, but for now it does not look good.
Are you curious about how do we review content on Jigidi?

At Jigidi, we celebrate what connects us and steer clear of divisive content because how we meet each other matters. It forms us. When we review the content, we use four 'lenses' and look for what the image or comment is most.