Makepeace Island - Noosa River - Queensland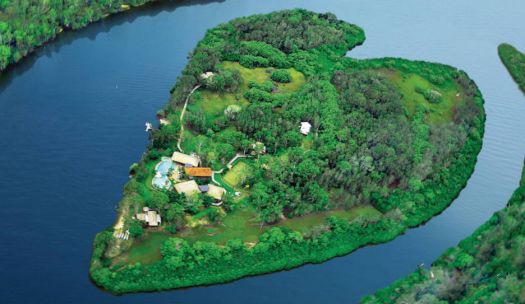 Why are you reporting this puzzle?
I have recently discovered that this small island in the Noosa River is less than 1km from my home and I previously did not not of its existence. Maybe Sir Richard might extend an invitation to the locals to pay him a visit.

Makepeace Island is a small heart shaped island resort located in the Noosa River on Australia's Sunshine Coast. The island is currently owned by Virgin Australia (formerly known as Virgin Blue) founding partners, Brett Godfrey and Sir Richard Branson. The island is Sir Richard Branson's Australian home and can hold up to 22 guests accommodated in three 2-bedroom villas and a 4 bedroom Bali House wing. The property has a tennis court, theatre, two-storey Balinese Wantilan, 500,000-litre pool and indoor bar and dining area.

23/11/18 - Update seen on local TV station last night. Work has just been completed on a multi-million dollar update on Richard Branson's Noosa hideaway. You can now rent accommodation from $10,000.00 to $25,000.00 per night, Any takers??