Bear and wolf friends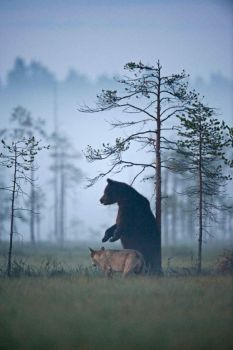 Why are you reporting this puzzle?
From a NatGeo article, "Competing Hunters Turn Friends? Wolf and Bear Share Dinner at Sunset"

October 9, 2013
By Jennifer S. Holland

Very rarely do we catch wild animals behaving in unexpected ways, mostly because we aren't usually traipsing around in the wilderness with a camera. Fortunately, photographer Lassi Rautiainen was doing just that, in northern Finland, when two young hunters, a brown bear and a gray wolf, crossed species lines and became companions. For at least ten days they were spotted sharing food and hanging around together; the wolf was even accepted by other bears in the area.

We tend to think nature follows very strict rules. Predators are usually solitary, and they hunt for themselves and, in some animals, their families. That's just evolutionarily logical. Food equals survival.

It's happened before, probably way more often than we know. Other reported cases of unusual wild friendships include a lioness in Kenya who stayed with and protected her young oryx (a small antelope) prey rather than kill and eat it, and a leopard in India that returned night after night to cuddle up with a chained-up cow.

It's never clear why these unusual pairings occur, but wild animals that get separated from their mothers too early, or that are cast out from the group (like this wolf, perhaps), sometimes take odd steps as they figure out how to survive on their own. A partner of any species might simply bring comfort, a sense of safety. And if there's enough food to go around, why not break bones together?


Full article at the link. Pictures show them bringing food to each other and playing together.