Kowanyama Post Office mural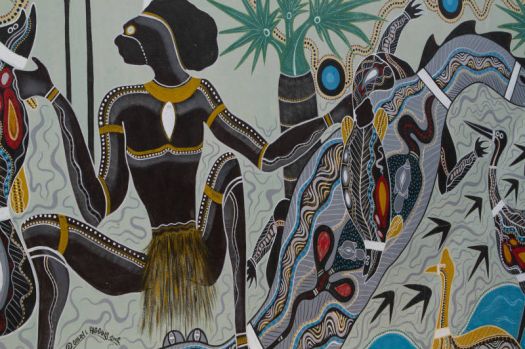 Why are you reporting this puzzle?
Kowanyama is an Aboriginal Community on the western side of Cape York Peninsula, QLD, Australia and is home to some 1,200 people. Some of them are very talented artists.
The town has been in the news this past week for the high rainfall that they're receiving! The 'Wet Season' has arrived with a vengeance across the Top End of Western Australia, Northern Territory & Queensland - a couple of cyclones have turned into rain depressions and dumped a staggering 850mm - that's 34inches - on Kowanyama in the last 7 days!! Yesterday they recorded 360mm - 14inches in 24 hours!!! All roads into & out of town are cut and for emergencies they have to rely on the airstrip - weather permitting! The town always stocks-up ready for the Wet Season, so they're well prepared!
How do you follow a puzzle?

When you follow a puzzle, it means you receive notifications about new comments on the puzzle.