My Garden Yesterday. Larger.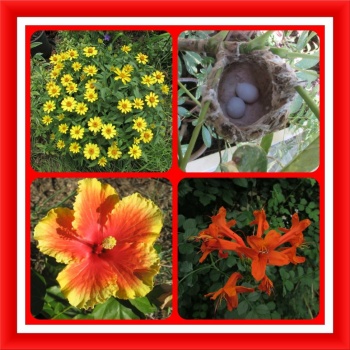 Why are you reporting this puzzle?
Some flowers and interesting things in my garden.

Top Left: My mini Chrysanthemum, flowering now that autumn is here.

Top Right: A tiny nest with two tiny blue eggs right beside our front door. Not a good place and I doubt they will hatch as the mother, who we think is a tiny Wren, is never on the nest. Also it's very late in the year to be raising babies.

Bottom Left: My gorgeous big Hibiscus Tequila Sunrise. It has been flowering and flowering.

Bottom Right: My Cape Honeysuckle with bright orange tube like flowers. "Tecoma capensis, the Cape honeysuckle, is a species of flowering plant in the family Bignoniaceae, native to southern Africa. Despite its common name, it is not closely related to the true honeysuckle." Wiki

Heather and I are off to Maryborough today, but won't be too long as we are staying away from the shops.
Are you looking for something particular?

Did you know you can select specific themes of jigsaw puzzles on Jigidi? We have 10 main categories with countless subcategories. Dig in to find your favourites ☺