Thistledown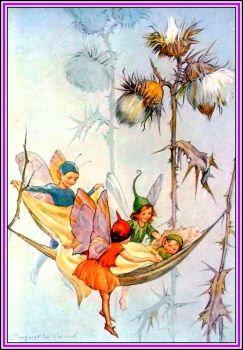 Why are you reporting this puzzle?
One of 16 colour plates from the book 'Joan in Flowerland' by Margaret Tarrant & Lewis Dutton, first published in 1935. A scene depicting three fairies tucking an elf baby into a bed made of thistledown.

Synopsis: "Joan is a little girl who believes in fairies, and when the gardener tells her that the best place to find them is among the wild flowers, she goes in search of them. Tinkler the elf acts as guide, and Joan makes some wonderful discoveries."
Are you curious about how do we review content on Jigidi?

At Jigidi, we celebrate what connects us and steer clear of divisive content because how we meet each other matters. It forms us. When we review the content, we use four 'lenses' and look for what the image or comment is most.