Miss Kiddy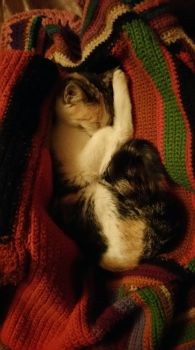 Why are you reporting this puzzle?
I stopped my pickup on the side of my road as I saw a cat facing the main road, and decided to watch the cat as two cars zoomed by. The cat turn her back to the road and faced the woods. Why wasn't she heading into the woods?? I couldn't figure her out as she wasn't looking about or moving. I exit my truck and walked out toward her. Not once did she look in my direction or move when I approached her or when I bent down to touch her. She was skin, and bones! I just couldn't leave her there to die. This picture is of Miss Kiddy into her third week of being fed, and care for. As of today she is heavy, and got a nice round stomach.
Are you a competitive or more a meditative solver?

You can adjust whether to have the timer show or not when you solve your puzzles. You'll find how to in our puzzle player guide.