Happy Birthday to All June Babies (Jun20P04)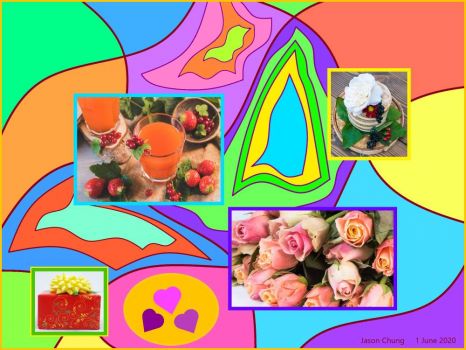 Why are you reporting this puzzle?
"The smallest act of kindness is worth more than the grandest intention."
- Oscar Wilde


June is my birthday month and I would like to share this Birthday Puzzle with everyone who celebrates their birthday, wedding anniversary or any special and joyful occasions in the month of June.

Magic carpets have flown all of you, my dear friends and guests, to the Virtual luxurious
aqua-centric resort hotel in Bora Bora.

Bora Bora is a small island in the Pacific Ocean. It has a rich cultural heritage and magnificent flora and fauna. Its beaches has exqusite white sands and gorgeous waters. The underwater world of Bora Bora is stunning . The shallow waters of its lagoon is crystal clear.

Let us spend a fun, adventurous, exciting and rejuvernating week at this French paradise and enjoy mouthwatering cuisine along with exciting actitivies. I heard that the local handicrafts are beautifully made.

The Virtual Organiser has arranged for a one week all expenses paid vacation in Bora Bora.

All friends and guests will be at the hotel grand ballroom on the first night to enjoy a delicious meal of Polynesian tamara'a (banquet) and to raise a glass of champagne to toast all the June birthday boys and girls.

I understand that at a Polynesian tamara'a (banquet), many dishes will be served. We will eat different dishes that make the ma'a Tahiti (typical Polynesian meal).

The dishes that make the ma'a Tahiti will be cooked inside the "ahima'a" which is the traditional Polynesian underground oven where hot stones are placed inside in order to cook the ingredients. Suckling pig, fishes (mahi mahi, tuna, and other fishes of the lagoon), chicken, crabs, banana, shrimps, taro, sweet potato, breadfruit, spinach will be wrapped with banana leaves and put inside the oven. Once all the ingredients are inside the "ahima'a", banana leaves are placed on top of them and then the whole thing is covered with sands. 4 hours later the ma'a Tahiti will be ready. And that will be the time when all of us will arrive at the ballroom ready for the dinner and for a wonderful time.

Let us toast all our friends who celebrate their birthdays in June. May all of them have a Very Happy Birthday and be blessed with good health. May Joy, Love and Peace be with them as well as Happiness, Safety and Wellness. To folks who are celebrating their June wedding anniversary, may they be blessed with a blissful and wonderful marriage.

The rest of the days and nights are free and easy. Just approach the Virtual Organiser and his Virtual Assistants for suggestions and tours. They will be happy to assist.

Since we are enjoying a vacation in Bora Bora, the food displayed on the buffet table in the main restaurant of the hotel will feature a vase variety of local as well as international cuisine.

There will be Polynesian, French, Italian, American, Chinese and Contemporary cuisine. There will be an abundance of seafood dishes for friends who love seafood - lobsters, crabs, fish, prawns, etc. There will also be vegetarian and vegan dishes for friends who prefer these dishes.

For friends who prefer to have their lunch and dinner outside, they will find that the main food of Bora Bora is fish.

This island paradise is excellent in local cuisine where French style dishes blend with the local source of delicious fish and juicy fruits. A wide range of cuisines and sumptuous delicacies are available in this island for breakfast, lunch, snacks and dinner.

Seafood is a must try item at Bora Bora restaurants. Let us try some of the local specialities. Mahi-mahi, grouper and bonito are often featured on Bora Bora menus. We can also sample the locally grown pineapple, coconut and bananas.

In the French Polynesian island of Bora Bora we can enjoy French cuisine, with dishes made with local products.

We can dine at French, Italian, Japanese and Chinese restaurants.

Here are some tips from the Virtual Organiser regarding food :

"Uru" (breadfruit) combined with "pua'a toro" (corned beef) and cooked with sliced onion is delicious.

Grilled fish with Taha'a vanilla sauce is very tasty.

We can try Sushi, Foie Gras, Rotisserie Pork, Tahitian Vanilla Panna Cotta, Banana or Papaya Puree and Tahitian Fruit Pudding.

Highly recommended are :

Royal Seafood Salad with lobster, tiger prawns and caviar, and Seared Ahi Tuna with vanilla oil, potatoes and lemon juice, while entrees include Mahi Mahi in a banana curry crust with mashed sweet potatoes and mango sauce.

The Trio - This dish is prepared with Tahitian fish for a taste of French Polynesia. This dish includes island flavors like Vanilla, Curry or Lime.


The Virtual Organiser will be delighted to assist with aqua-centric and other activities.

Here are some of his suggestions :

- A half-day Snorkeling Excursion combined with a relaxing Lagoon Cruise
- Hiking Adventures of scenic landscape and natural beauty
- A half day 4WD Tour of the island
- Sightseeing Boat Tours
- Helicopter Rides
- Cataraman Trips
- Glass Bottom Boat Tour
- Aqua Safari Helmet Dive
- Aqua Bike Adventure
- Jet Ski Adventure Sports
- Parasailing
- Kite Surfing
- Stand Up Paddleboarding
- Lagoon Fishing
- Bora Bora's Sunset Tour onboard a Private Bar Boat

- Visits to places of interest - Matira Beach, Le Meridien Beach, Pearl Resort Beach, Lagoonarium, Mount Otemanu, Faanui Valley where we see how artisans make traditional items like sarongs. These are just a few of the many interesting places.


After a beautiful week at Bora Bora we will all gather together, once again, at the Virtual Hotel grand ballroom to mingle with friends and to celebrate with a sumptious buffet, champagne and fresh fruits.

As an appreciation for attending this Virtual Party, all friends and guests will be presented with a Virtual Gift of a Tahitian Pearl Necklace and Bracelet for the ladies and Tahitian Pearl Cufflinks for the guys.

The next morning, after breakfast, the magic carpets will fly us home.

After our Bora Bora vacation, we will recover a bounce in our step. The soothing melody of rolling waves , the fresh air, the turquoise lagoons, the soft white sands and deep tangerine sunsets and succulent, delicious meals would have rejuvenated our minds, bodies and soul.

Thank you, my friends, for joining me at this Virtual June Birthday Party :-)

I hope that all of you have enjoyed it.


This puzzle is posted in 4 sizes - 12, 108, 252 and 540 pieces.

Please enjoy.

Cheerio, Jason :-)


jasonchung2 is my main account.
I also post puzzles at jasonchung (my second account).
jasonchung1 (my third account) is now a sealed account, however, you can still solve puzzles there.


Puzzle 772


PS : This puzzle is drawn by me. The photos are public domain photos from the internet.


As this is a birthday puzzle, please keep all comments positive and auspicious (as I am superstitious when it comes to birthdays - especially, please do not mention or write anything that has to do with the opposite of being healthy, alive, well or living). Thank you for your understanding and co-operation.