Banksias and Birds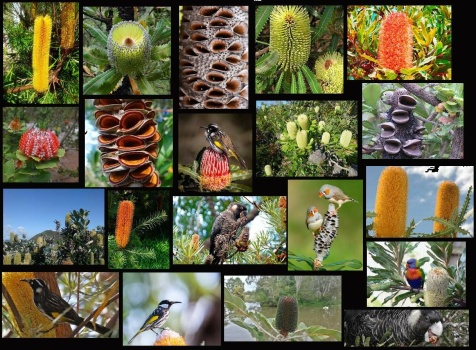 Why are you reporting this puzzle?
Banksias can be found all over Australia favouring wallum and coastal scrublands as well as open forests. The Banksias depicted here are found on the East Coast. The flowers produce a sweet nectar, a food source for birds and insects. The seeds that follow are sought after by cockatoos. Their strong beaks tear the pods apart and they can practically destroy all the pods on a tree in one go. Cockatoos will also tear into the trunks of banksia trees to extract grubs inside. The large "gnarly" seed pods are known as "old man banksia" (banksia serrata) and are featured as characters in May Gibbs stories "Snugglepot and Cuddlepie" circa 1918.
A sweet drink can be made by soaking banksia flowers in water and if left to ferment an alcoholic beverage is produced. This, I have not tried but I can attest to the sweetness of the nectar. Another Australian native plant that produces an abundance of nectar goodness is the grevillea which grows along side banksias.