Life in the "Comp'ny House"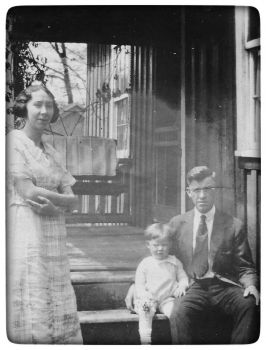 Why are you reporting this puzzle?
My grandparents, Ben and Martha Keller, with their firstborn, Dwight, aged two, on the porch of their "Comp'ny House", in Putney, West Virginia. Baby Margaret was sleeping inside. It was 1922.

The coal companies, before the birth of the United Mine Workers union, essentially owned the men who slaved in the guts of the Appalachian hollows and hills.
The companies built complete towns near the mouths of their mines. They brought in (their) law officers, the doctor, the dentist, the preacher, the schoolteacher for their schoolhouse, and built a funeral parlour for the undertaker.
They built the church, the depot, and a "movie house".

The "Comp'ny Store", which took only "scrip"--the single exchange currency that was honoured there-was owned and operated by the company. The store prices were exorbitant, and the company-owned train and track, which operated on a strict and limited schedule, were the only means the miners and their families had to get out to a public market. This effectively allowed the company to recoup the bulk of the miners' paycheck.

Moreover, the company built all the houses and "privvies" in the town. They owned the land. Nobody else was allowed to erect a dwelling.

In short, the company owned the miners and their families. It was, in fact, a form of slavery. To keep miners working, the company would bring in trainloads of hired thugs to intimidate, beat up, and summarily evict any unhappy striking workers from "their" homes.

Has the word "company" become tiresome to you yet? Indeed, it was tiresome to the miners and their families, too.

Today, the town site is detected only by a wooden weather-beaten sign listing in handpainted letters and numerals the names of the men who died in the Putney Mines.
The gravestones lie in damaged disarray beneath the overgrown vegetation, and scattered daffodils, the remains of a mine wife's garden, bloom along the faint deer and bear trails that crisscross the acreage.

From the mountainside, the remains of the old tipple brood over the once-bustling, muddy little village.