Memories, Monterey California. 2017. Smaller.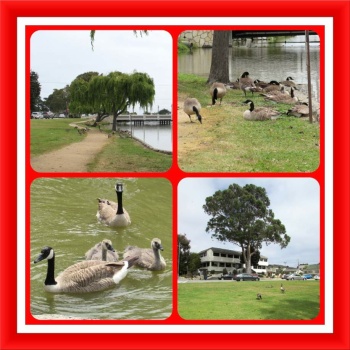 Why are you reporting this puzzle?
As we explored Monterey we found this lovely lake by accident. It's called Lake El Esero and it used to be a brackish sea lagoon and the council blocked it off from the sea, cleaned it out and created this beautiful lake.

Top Left: A lovely view of the lake.

Top Right: It was very popular with Canadian Geese.

Bottom Left: A little family came up to us but we had nothing for them so.......
Bottom Right: ..... they got out of the water and walked up the bank to eat grass! We realized the big tree was an Aussie Eucalypt, a Gum tree, so that made us feel at home.