Whitefish Point Lighthouse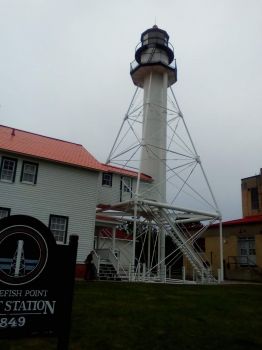 Why are you reporting this puzzle?
The oldest active lighthouse on Lake Superior, this station watches over freighters traveling between the Soo Locks and locations on the western shore of Lake Superior via Whitefish Bay. Lake Superior is treacherous in bad weather, and while other sites claim to be the "graveyard of the Great Lakes," the Great Lakes Shipwreck Museum is right behind this lighthouse. The Edmund Fitzgerald went down 15 miles from this point, having failed to make it to the relative safety of the bay. (Its bell and other recovered artifacts are included in the museum's collection.)

One night, outside our window on the bay, we could see the lights of a freighter, apparently not moving. The concierge told us it was bound for Duluth, but parked for the night because of 12-foot waves on Lake Superior. She added that a year or two ago, predictions of 25-foot waves had 22 freighters parked right outside the hotel!