A Compound of Twelve Cubes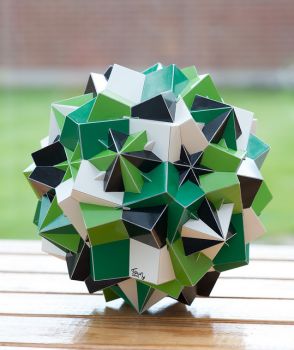 Why are you reporting this puzzle?
This is a special position of a 12 cube compound for which three cube edges meet in a regular 6 pointed cross. In the picture you see that happening for the black cubes just at the right of the centre. You can see it for the light green ones too (one the left). This compound is a special position for compounds of twelve cubes, where pairs of cubes share a pair of vertices.

Using Verheyen's notation, it is a 12A | S4xI / C2xI | μ3, where μ3 = asin(1/√3). For this position the 12A | S4xI / C2xI consists of 4 x 3 | D6xI / D2xI, as well as 6 x 2 | D6xI / D3xI.