Sweetlittleoldgranny's Hallowe'en Party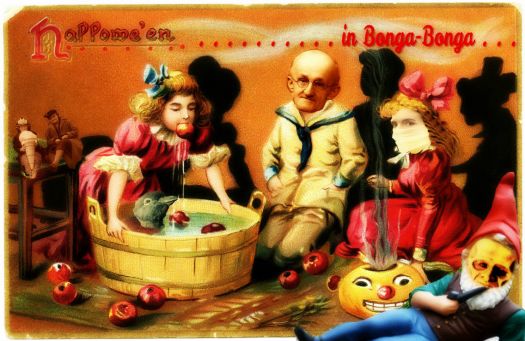 Why are you reporting this puzzle?
This beautiful painting-thingy shows the exciting ongoing goings-on at sweetlittleoldgranny's annual Hallowe'eny Hootenanny.....
The Notorious Torius Sisters, 'Ma' Victoria and 'Auntie' Knotty, though long since departed, made a guest appearance in spirit, to witness the apple-dunkin' antics of Dr.Adonis B.Bugosi (also here in spirit, since he was banished from jigidi, and presumably drowned in Lake Baikal, the deepest lake in the world), accompanied by his faithful secretary, Donaldette. Mrs.Bugosi made a rare appearance in public, while I dusted down my garden gnome apparel, in order to mix surreptitiously with the guests.