Petoskey Stones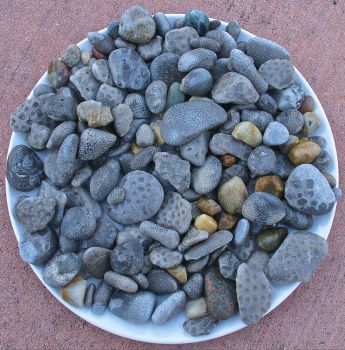 Why are you reporting this puzzle?
Found on the beach in Charlevoix, MI
This plate is only a fraction of what we kept. Some of the stones are not Petoskey. We will tumble to polish when we get home. If you google images of Petoskey Stones, you will see what they look like polished.

A Petoskey stone is a rock and a fossil, often pebble-shaped, that is composed of a fossilized rugose coral, Hexagonaria percarinata. ... Petoskey stones are found in the Gravel Point Formation of the Traverse Group. They are fragments of a coral reef that was originally deposited during the Devonian period.