Pannage Month ~ Sybil Andrews
Pannage Month ~ Sybil Andrews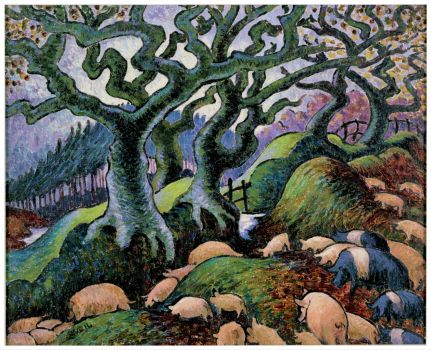 Why are you reporting this puzzle?
Sybil Andrews (1898-1992) was a British-Canadian artist who specialized in printmaking and is often remembered for her reductionist linocuts. Many of her works honor manual labor.

Born in Bury St. Edmunds, England, Andrews was financially unable to attend art school after finishing secondary school. She apprenticed as a welder and worked at an aeroplane factory during World War I. During this period, she took an art correspondence course. Between 1922 and 1924 Andrews attended Heatherley's School of Fine Art in London. With the beginning of World War II, Andrews resumed work as a welder, constructing warships.

In 1947 she and her husband moved to Canada. They lived in a small cottage in the logging community on Vancouver Island where they made ends meet building and repairing boats. Rediscovered in the art world during the 1970s and 1980s, Andrews became a local celebrity and spent the rest of her life working, painting and teaching.

Pannage is the practice of releasing livestock pigs in a forest in the autumn, so that they can feed on fallen acorns, beechmast, chestnuts or other nuts. Historically, it was a right or privilege granted to local people on common land or in royal forests.