Anna_Ancher's Sunlight in the Blue Room, 1891
Anna_Ancher's Sunlight in the Blue Room, 1891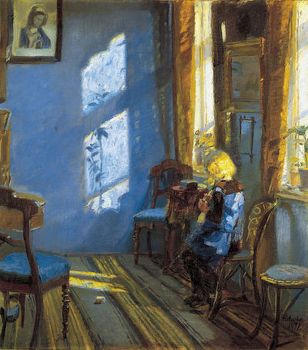 Why are you reporting this puzzle?
Anna Ancher painted her daughter, Helga, sitting in the blue room at Brøndum's Hotel in Skagen, Denmark.

"As in many of Anna's works, there is no real action; the play of the light in the blue room is the theme of the picture. Often her characters are so preoccupied with..." what they are doing that they do not notice "....the viewer's presence. The exchange between the interior and the exterior is very limited, and the light on the wall is the only trace of the world outside."

Anna Ancher's "...mother was deeply religious, but she still supported her daughter's artistic ambitions, and allowed her to study at a private art school in Copenhagen. "