Z8 Thimble Shoal, VA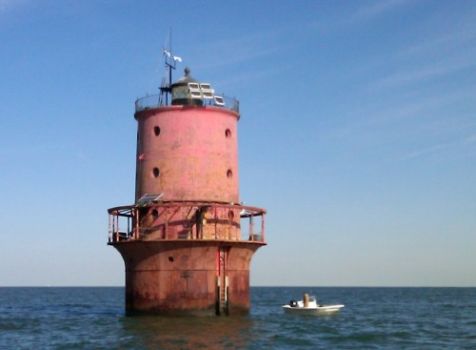 Why are you reporting this puzzle?
Thimble Shoal Light is a spark plug lighthouse in the Virginia portion of Chesapeake Bay, north of the Hampton Roads channel. The third light at this location, it is listed on the National Register of Historic Places.
The first light at this location was a hexagonal screw-pile lighthouse erected in 1872, replacing the last lightship stationed within the bay. It was destroyed by fire in 1880 and replaced in the same year with a new house on the same foundation. This was facilitated by the availability of a newly constructed house originally intended for the Bells Rock Light, so that the light was out of service for only fifty-five days.

The second light was plagued by collisions with passing ships: it was struck by a steamer in 1891, by a coal barge in 1898, and finally by the schooner Malcolm Baxter, Jr., which struck the lighthouse on December 27, 1909 while under tow. This last collision damaged the foundation and overturned the stove in the house, which was destroyed by fire.
Are you looking to change your password?

It's always a good idea to consider if you need to change your passwords on the different services you use. We have created a guide for you on how you can change your password on Jigidi.